Regions of the Hudson River Valley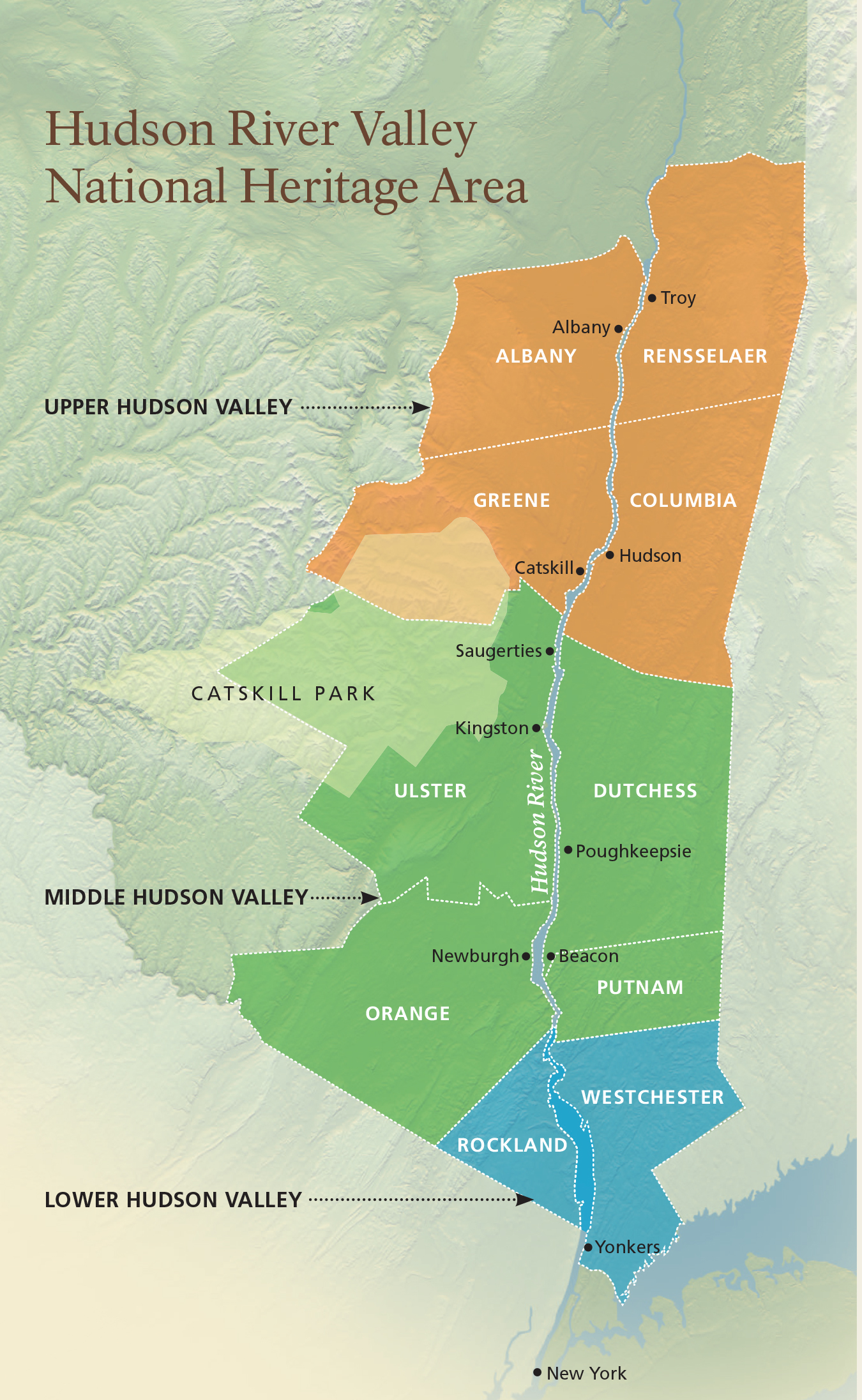 Upper Hudson Valley
The Upper Hudson Valley encompasses the counties of Greene, Columbia, Albany, and Rensselaer. This region is dominated by rolling hills, the Catskills, farms, and orchards as well as beautiful river and mountain views. These views provided the backdrop for the Hudson River School. Frederic Church built his home at Olana in the 19th century here. Significant resources in the Capital District illustrate the area's role in state government, the heritage of the Dutch outpost and landholdings here, and the important contributions made during the Industrial Revolution. The navigable waters of the Hudson River reach their terminus just north of Troy. The Erie and Champlain Canals begin here and provide access to the west and north respectively. North of here, the Hudson continues its 314-mile course as a much smaller river to its source at Lake Tear of the Clouds on the flank of Mt. Marcy in the Adirondacks, New York's highest mountain.
Middle Hudson Valley
The Middle Hudson Valley encompasses the counties of Putnam, Orange, Dutchess, and Ulster. With its rolling hills and magnificent estates as well as the Shawangunk and Catskill Moutains ranges, this region is known for its scenic and historic treasures. As the river narrows, the banks on either side of the Hudson are dominated by the majestic Hudson Highlands. Events that unfolded here during the Revolutionary War earned the Highlands a prominent spot in our national consciousness.
Lower Hudson Valley
The Lower Hudson Valley encompasses both Westchester and Rockland counties. The landscape in this region shifts from the urban cityscapes of Manhattan to the marshes and hills of the Hudson Valley. Here, a dense concentration of historic sites and estates were built by wealthy entrepreneurs. In the 1700s, two Dutch families—the Van Cortlandts and the Philipses—owned much of the land here. Most of the historic sites you see today were preserved for the public through the generosity of the Rockefeller family who built Kykuit (pictured at right), their country estate, at Pocantico Hills.